feminist no borders Summer School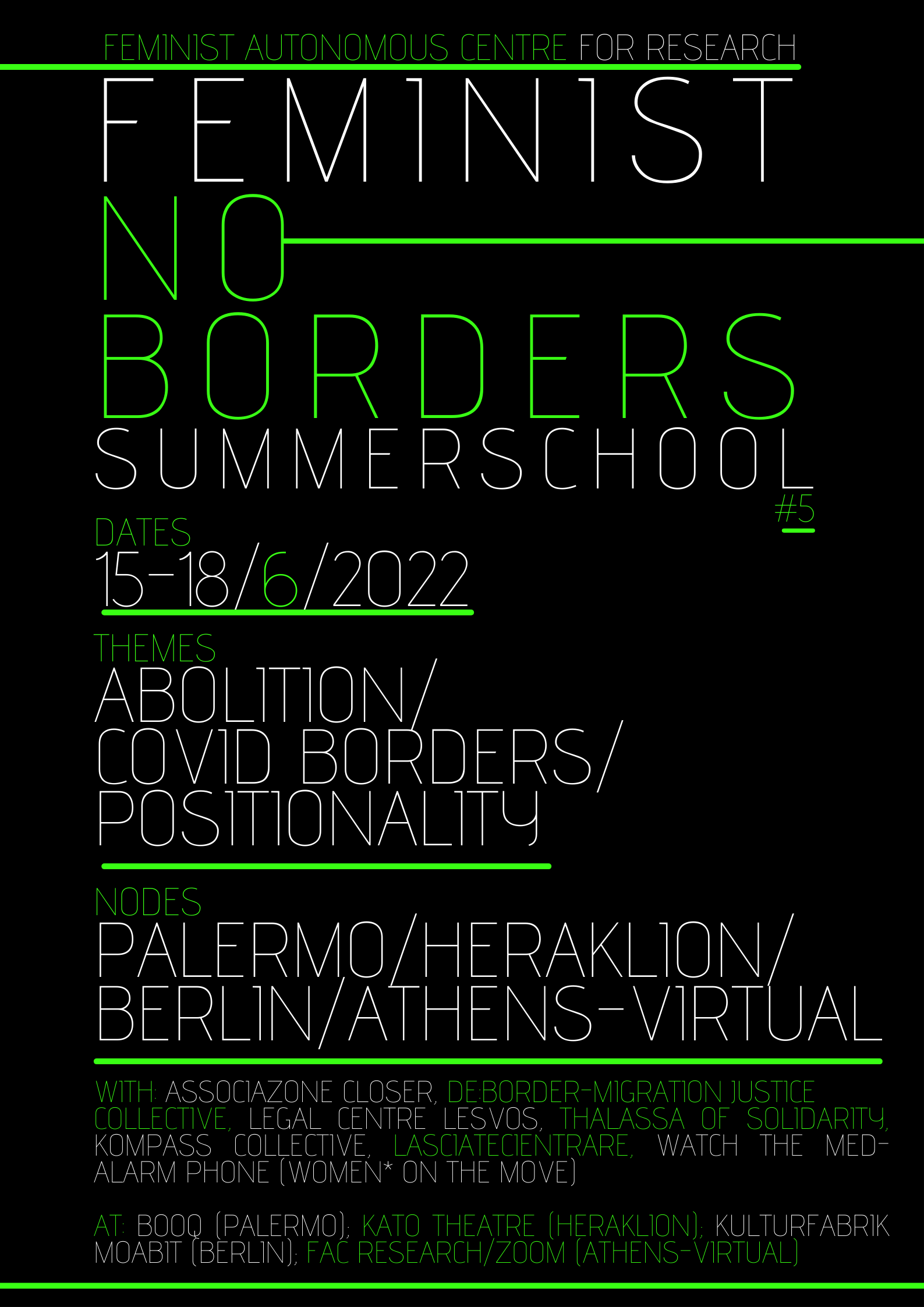 Fifth Annual
Feminist No Borders Summer School
15 to 18 June 2022
Palermo/Heraklion/Berlin/Virtual
Deadline for expression of interest: 9 April 2022
The Open Call has now closed.
The annual feminist no borders summer school provides a space of encounter, mutual learning, and inspiration for researchers, activists, artists, and members of community organisations to exchange experiences, strategies, and struggles across and against borders. We seek to displace the hegemony of academia as the primary location from which knowledge is produced and distributed. It's an antiracist, abolitionist feminist space that seeks to challenge the division between knowledge and practice and to intervene in the dominant ways in which borders are reproduced in academia, media, and humanitarianism. In the summer school, we practise alternative ways of learning, listening, and speaking to each other, prefiguring political communities through which we'd like to struggle.
This year, the summer school will take place over four days in three physical locations: Palermo, Heraklion, and Berlin. There will also be a virtual node to facilitate the participation of those who are prevented from travelling due to the border regime (as well as other barriers). Each day, we will meet both within each node as well as hybridly, to enable conversations and exchange across these locations, and to connect our struggles in different localities.
Download the Call for Participants: PDF (ENGLISH); PDF (GREEK); PDF (ITALIAN); PDF (GERMAN)

Schedule
times in UTC+3
Wednesday 15 June
6–7 pm: Welcome circle (in each local/virtual node)
7–8:30 pm: Opening Assembly (hybrid)
Thursday 16 June: Abolition
11-2 pm: Morning Session (in each local/virtual node)
3:30-4:30 pm: Abolishing borders in the University, a conversation with: BRIDGES collective (Heraklion node only)
5-7 pm: Roundtable with: Associazone Closer, de:border—migration justice collective (hybrid)
On the first day of the summer school, we focus on the relationship between prison abolition and border abolition from a feminist perspective. Whilst the US debates on prison abolition critically link the continuum between colonial violence, slavery, prisons, and bordering, in European contexts there seem to be a need to discuss these entanglements further. The criminalisation and imprisonment of people who defy borders, either by crossing them or by supporting border crossers, has become a key bordering technique. The law and the so-called 'criminal justice system' have historically been key sites of racist and patriarchal oppression, and, as such, key sites of struggle. In the context of no-border struggles, however, appeals to the law, to the discourse of human rights, as well as to the illegality of state practices seem to go unquestioned.
The questions that arise, then, are:
To what extent can we demand states and other authorities to "protect people", to "respect rights" and to 'respect the law', when state formations are founded on violence and oppression?
Is the abolition of the state and of other forms of oppression a precondition for the abolition of borders and prisons?
Can we reconcile the legal system, on the one hand, with a practice and vision oriented towards border abolition, on the other?
Is it possible to use the law, the discourse of rights and appeals to illegality of state practices as a tactical element rather than an end-goal in our struggles?
Is the use of the law a necessary and relevant tool when its formation, construction and application are intrinsic to State's institutions? Could other sets of "principles" or "rights" be more relevant?
How to think about accountability when it comes to state and corporate violence, from an abolitionist perspective?
How do we put into practice a feminist abolitionist analysis of the continuum of violence of colonialism, prisons, and borders, and how do we navigate inevitable contradictions?
 
Friday 17 June: COVID borders/bordering through COVID
11-2 pm: Morning Session (in each local/virtual node)
5-7 pm: Roundtable with: Legal Centre Lesvos, Thalassa of Solidarity, Kompass Collective, LasciateCIEntrare (hybrid)
On Day 2, we focus on how the management of the pandemic crisis has become a pretext for rebordering projects and installing harsher divisions amongst the global population. From the various locations in which  we are based, we have witnessed the pretextual use of the pandemic to ramp up the prisonification process: for instance, on the islands and the mainland in Greece, the government continually applies discriminatory regulations confining  people forced to live in camps to a perpetual lockdown, while intensifying racial profiling and criminalisation of people racialised as migrants by police in urban centres  on the pretext of pandemic controls; Fin Italy, for racialized populations crossing borders, quarantine has been conflated with detention, as in the "quarantine ships." The use of detention under the guise of quarantine becomes a practice through which to obstruct people from accessing the asylum services and applying for asylum. This amounts to  denying them the right to asylum and, further, exposing them to violent deportations in the form of push-backs. All of the above point to the ways in which, through the naturalisation of race, pandemic management operates as migration management, which has led to construction of new borders and the intensification of already existing ones. A global regime of vaccine apartheid has reinforced the violent border regime and the forms of inequality, exploitation, and marginalisation it reproduces.
We will reflect on the following questions:
What are the new borders that have installed on the pretext of pandemic controls and how can activists mobilise  against  them in times of social isolation, distancing, and segregation?
How can we  struggle for the right to asylum and international protection without reproducing notions of deservingness and falling into paternalistic conceptualisations of vulnerability?
How have  claims to protection become an excuse to enact violence during the pandemic?
How can we engage in a feminist critique of bordering that reveals  how border violence draws upon scripts of gendered violence and thereby make links between border abuse and domestic abuse?
How can we resist the prisonification projects, while at the same time challenging fascist opposition to such projects?
How may we generate feminist resistances to bordering and control of mobility through the pandemic that starts from the location of our bodies?
 
Saturday 18 June: Positionality in research and activism
11-2 pm: Morning Session (in each local/virtual node)
5-7 pm: Roundtable with: Watch the Med—Alarm Phone (Women* on the Move) (hybrid)
7:30-8:30 pm: Closing Assembly (hybrid)
On Day 3, we focus on the intersection of research with activism. We look more specifically at the ethical challenges of doing research within and with activist groups interrogating the positionality(ies) of the researcher. We offer constructive reflections on the intentionality of activist research by asking the very basic question: when does research become extractivist? There are plenty of examples where research has gone wrong when it comes to activism. Cases of broken ties with activist communities due to breach of trust, lack of transparency, knowledge expropriation and co-optation have been documented in research with migrants and/or Indigenous environmental activists in recent years. Along these lines, experiences of gendered violence and sexual harassment in research processes have been heard multiple times. These are issues that put in jeopardy research itself where also fundamental questions of voice, ownership and authorship need to be fully addressed. On the one hand, we need to reconsider the multiple hierarchies within academic research that may not be in line with political values of horizontality, autonomy, and self-determination in no borders activism. On the other hand, we need to acknowledge the various examples of researchers who apply refusal as a methodological tactic to protect communities as well as an ethical commitment to decolonise research. Lastly, we will also reflect on the geopolitical positionality of research driven by funding bodies and academic institutions of the Global North towards minoritised communities and individuals.
The questions on which we will focus include :
Can we, indeed, claim the existence of activist research? What are the challenges to overcome the boundaries between "research" and "activism"?
How, as researchers, can we ethically engage in activist spaces and/or movements and avoid co-optation and knowledge extractivism?
What are the methodological tools through which we can conduct a horizontal, inclusive and decolonial research that aligns with the activist values of participating communities?
What are the challenges for addressing pluriversality in research with all voices being equally (re)presented? How do we overcome issues of authorship within collaborative processes of research?
What should be the mechanisms to call out gendered violence and sexual harassment in research processes? How do we form a complaint?
How can we challenge the knowledge factories, i.e. academic institutions and funding bodies of the Global North, to decolonise their approach to research outputs (e.g. "production" of papers, research excellence frameworks, divisions between researchers and "researched")?

Format
There will be four nodes, with virtual connections between them:
Palermo, Sicily, Italy (capped at 20 participants)
Heraklion, Crete, Greece (capped at 20 participants)
Berlin, Germany (capped at 20 participants)
Virtual node (capped at 20 participants), which will be run from FAC research in Athens.
The virtual node is meant to accommodate people who cannot travel to the physical locations due to bordering and visa regimes, as well as other barriers to mobility and meeting in person.
All the morning sessions will take place in person in the 3 local nodes (physical locations) and online in the virtual node. The afternoon sessions require online participation from all groups. The opening assembly is a space for every participant to introduce themselves; and the closing assembly is to think together about next steps and interventions.
Visas
If you need support with a visa application, we can provide an invitation letter.
Covid-19 Policy
Each local node will make sure that in-presence activities are organised in order to keep people safe from Covid-19, according to the needs and regulations of the time and place where the meetings will take place, as well as according to participants' accessibility needs.
Fees
The organisation of the Feminist No Borders Summer School is a work of love and all organisers and invited participants volunteer their time. This is how there are no tuition fees to attend this summer school. What we kindly ask all participants is to:
(1) become members of FAC, this will allow us to keep the physical space of the Feminist Autonomous Centre for research in Athens open at a time where the battle over public and community space has, once again, become strategically important in the city centre, and
(2) make a solidarity contribution, which will be distributed to the community organisations involved in the summer school, in order to support their actions in the struggle against borders.
For each, there is a sliding scale from €0 to €200, according to your capacity. If you have an institutional affiliation and have access to funding, please choose a higher scale of membership and solidarity contribution.
The summer school is an antiracist, feminist LGBTQI+ affirmative space and the participation of trans, intersex, non-binary, queer, lesbian, bisexual, and gay people is encouraged. No TERFS! Prior to sending an expression of interest, please read and commit to our code of contact.
For more information, please email: summerschool@feministresearch.org
Important dates
Deadline for expression of interest: 9 April 2022
The call closes at 11.59 pm (utc+3) on this date and we cannot accept any late applications.
Notification of acceptance: 3 May 2022
Everyone who sends an expression of interest will be notified of the selection outcome by this date.
Registration deadline: 16 May 2022
Participants should send an email confirming registration, FAC membership and solidarity contribution by 11.59 (utc+3).

Final programme circulated to participants: 23 28 May 2022
Detailed programme and useful information will be sent to all registered participants by this date.
Summer School takes place: 15-18 June 2022
We look forward to our four days together in Palermo, Heraklion, Berlin, and virtually (from Athens)!
No Borders! No Nations! No binary gender formations! 

Queer feminist solidarity smashes borders!
The Feminist No Borders Summer School is three four years in the making. The brainchild of Feminist Researchers Against Borders (FRAB) has survived a packed classroom in the Polytechnic University of Athens in the July 2018 heatwave, and was nourished in its life course as the first gathering we had in the Feminist Autonomous Centre for Research (FAC research) in June 2019. In 2020, due to the coronavirus pandemic, we proposed a slower, virtual process, which consisted in weekly meetings of four working groups from April to June, as well as video keynote lectures/discussions and a virtual assembly held in June, kindly hosted on the platform of Off University. In 2021, we held an intensive, virtual three-day summer school. We are grateful to the 140+ 421+ past participants, invited speakers, and community experts who gave this summer school its existence.
The context of the three four previous summer schools was shaped by the "refugee crisis" that was declared in the summer of 2015, and the "economic crisis" that was dramatised in July 2015: first, by the referendum through which the electorate rejected a new memorandum of understanding between the government of Greece and the Troika of its creditors; and then by the deal reached between the Greek government and the leaders of the Eurozone in defiance of the popular vote. The management of a declared "debt crisis" through austerity politics intersected with the exploitation of "the refugee crisis" through the establishment of a new migration management infrastructure: hotspots were created on five islands in the eastern Aegean sea, while camps and detention centres proliferated on the mainland. 
When the coronavirus first appeared in Greece, the Greek government exploited what it declared as a  "double crisis": in addition to the pandemic, it proclaimed  a  border crisis when, in protest over the EU's failure to uphold the terms of the EU-Turkey deal and its lack of support for Turkey's imperialist military campaign in Syria, Recep Tayyip Erdoğan threatened to allow refugees to cross the Turkish border into Greece. In response, the Greek government imposed a "state of emergency" in March, suspending asylum processes. Moreover, the far-right New Democracy government sought international support for its previously devised, and already partially implemented designs to detain asylum seekers and undocumented people in so-called "closed centres" (i.e. prisons), to accelerate deportations, and to criminalise solidarians. Exploiting the coronavirus pandemic, the Greek government has justified the containment of refugees by conflating quarantine with detention.
Immediately following the fire at Moria on 9 September 2020, the government's response to the "new crisis" was the creation of the new, closed, and highly policed hotspot on the former shooting range at Mavrovouni and the eviction of the solidarity camp The Village of All Together (PIKPA) and the closure of the municipality-run Kara Tepe camp for "vulnerable" asylum seekers. The conditions of visibility have dramatically shifted since the onset of the "refugee crisis" six years ago, when Lesvos became the epicentre of the photographic gaze turned on people arriving in Europe; now, due to the media ban and nondisclosure agreements imposed on volunteers and staff at camps and hotspots, as well as the harassment and criminalisation of people forced to live in detention camps when they attempt to document the conditions, the need to pay witness and amplify the visions and voices of people trapped in carceral border spaces is ever more urgent. In response to extensive, thorough documentation by civil society human rights observers, the Prime Minister, the Minister of Migration, and other officials have repeatedly denied conducting pushbacks as "fake news," while attacking search and rescue NGOs with charges of criminal organisation, espionage, violation of state secrets, and facilitation of entry.
While we are writing this call, we witness whole islands being turned into spaces of administrative torture, and the sea turned into an aqueous cemetery, the theatre of an undeclared war, the scene of pushbacks and pullbacks, resulting in thousands of deaths. Closed detention centres are being constructed on hotspot islands and the mainland. The imposition of a new asylum law violates the very right to apply for asylum in Greece. Following the violent evictions of self-organised squats in Athens and other urban centres, refugees have been evicted from UNCHR-funded apartments, left to fend for themselves to "integrate" into a racist society, resulting in homelessness and extreme precarity. We experience the privatisation and militarisation of public spaces, including incessant stop and search procedures through racial and gender profiling. We protest sexual assaults and feminicides, at the borders, on the streets, in prisons, and in homes turned into prisons.
The multiple forms of precarity and the various velocities at which some human (and nonhuman) beings are consigned to death through the necropolitics of the "crisis regimes" have intensified divisions amongst us, along lines of racialised citizenship, class power, and heteropatriarchal normativities. At the same time, a growing interest in, and commitment to abolitionist politics, in the wake of the resurgence of the Black Lives Matter Movement, opens up spaces for imagining and prefiguring border abolition, prison abolition, police abolition, as well as the abolition of the heteronormative family and of the system of compulsory binary gender assignment. The Feminist No Borders Summer School has aimed to think together these abolitionist demands. Thus, we ask: What becomes possible when we inhabit the borderlands with the conscious intention of breaking down the multiple borders that have been erected to keep us apart?
What have we learnt from (our) being together in Athens during the previous three four summers? That incisive analyses about the phenomena comprising our bordered reality, and hard-wrought experiences of struggle and resistance, can be shared and synthesised with care, passion, and joy, when queer feminists who oppose the international nation-state system of borders meet in a room (or in cyberspace). We seek and offer connection, collaboration, mutual support, friendship, and love to all those who struggle for survival and for possible better worlds.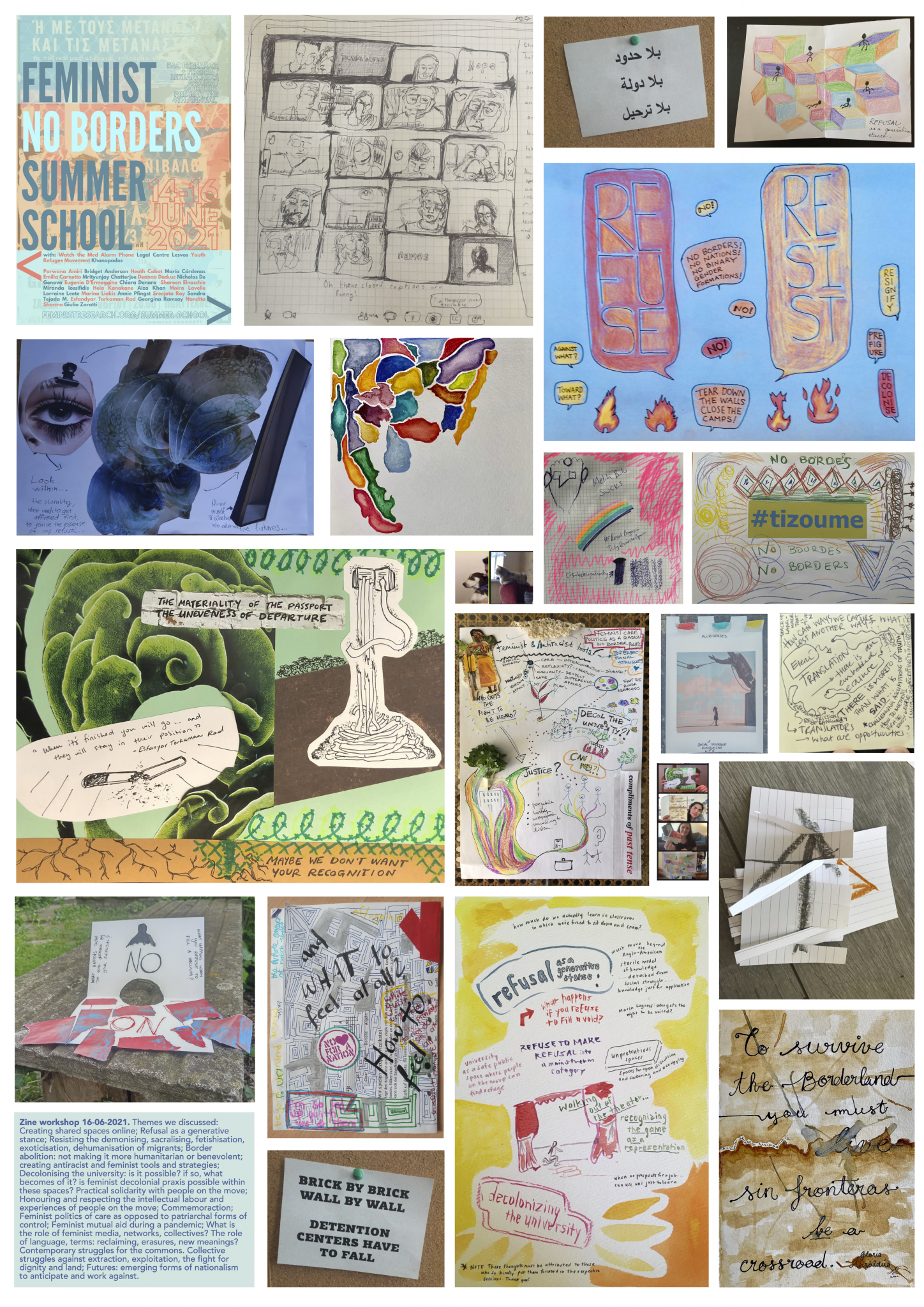 Above: a collage of art works created by participants in the zine workshop during the 4th annual Feminist No Borders Summer School, facilitated by Miranda Iossifidis, who also created the collage.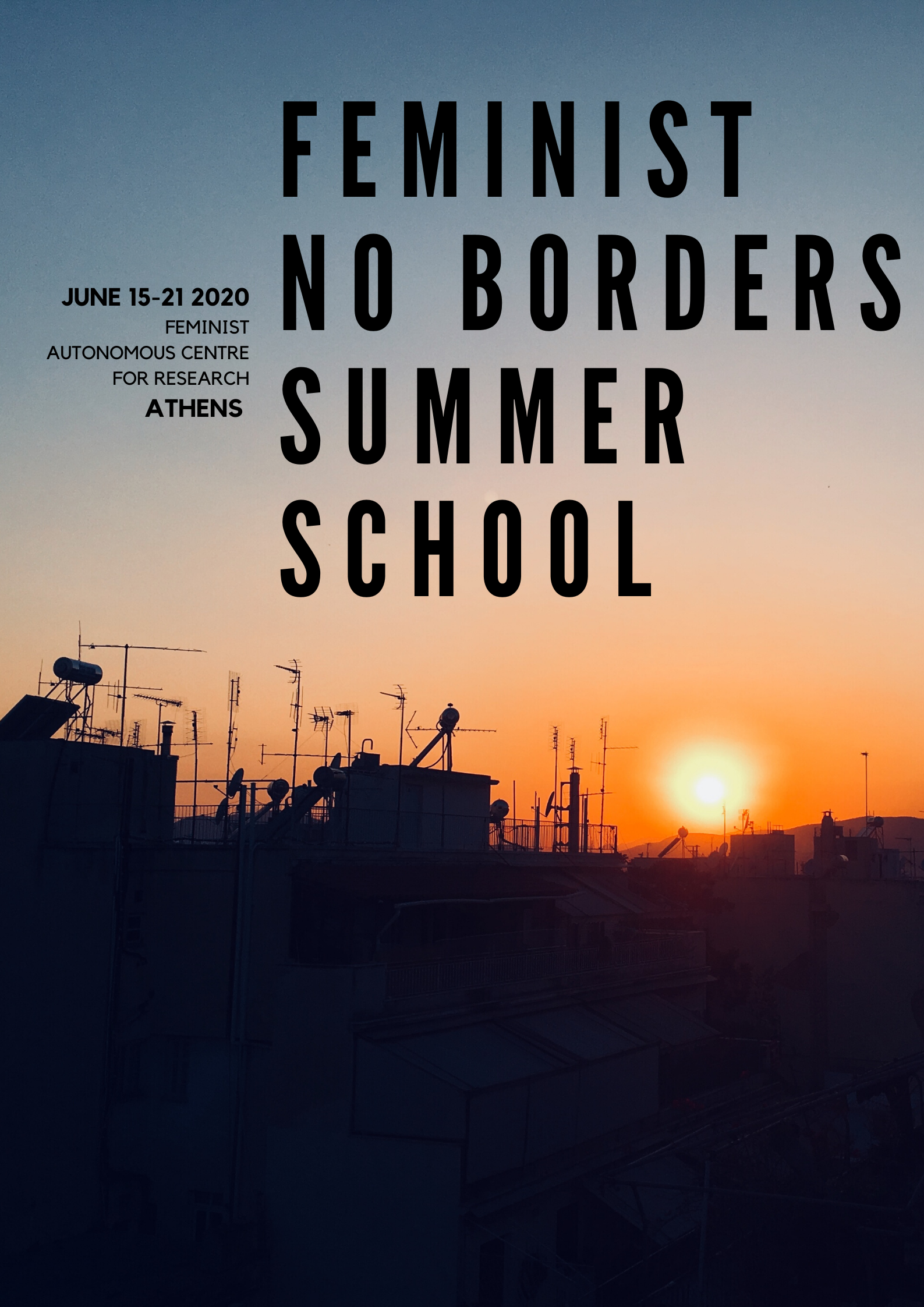 Due to the coronavirus pandemic, and mindful of the risks and exclusions involved in an in-person international meeting of its kind, we took the decision to postpone the Feminist No Borders Summer School (scheduled for 15-21 June 2020) until pandemic conditions subside. Instead, we undertook a slow, virtual process with the 35 participants and 5 invited keynote speakers, which consisted in weekly meetings of four working groups from April to June, and, over the week for which the FNBSS was planned, video keynote lectures/discussions on the 16th, 17th, and 18th of June and a virtual assembly on the 20th of June, kindly hosted on the platform of Off University. You can watch the video keynote lectures/discussions below.
Tuesday 16 June: 
Keynote lecture by Sophie Richter-Devroe (Hamad Bin Khalifa University, Doha), "Everyday Crossings: Palestinian women resisting the settler colonial border"
Wednesday 17 June:
Keynote lecture by Sreejata Roy (Revue, an artist ensemble, New Delhi), "Social Space – Everyday – Creativity"
Thursday 18 June:
Keynote lecture by Deanna Dadusc (Alarm Phone Brighton) and Hela K. (Alarm Phone Tunis), "Women's Struggles in the Mediterranean Sea"
For further info see the collective report by Alarm Phone activists on "Struggles of Women* on the Move"
Below: a zine collectively created by participants in the Feminist Researchers Against Borders Summer School in July 2018. The zine workshop was conceived and facilitated by Miranda Iossifidis, who also compiled, photocopied, and digitised the zine.