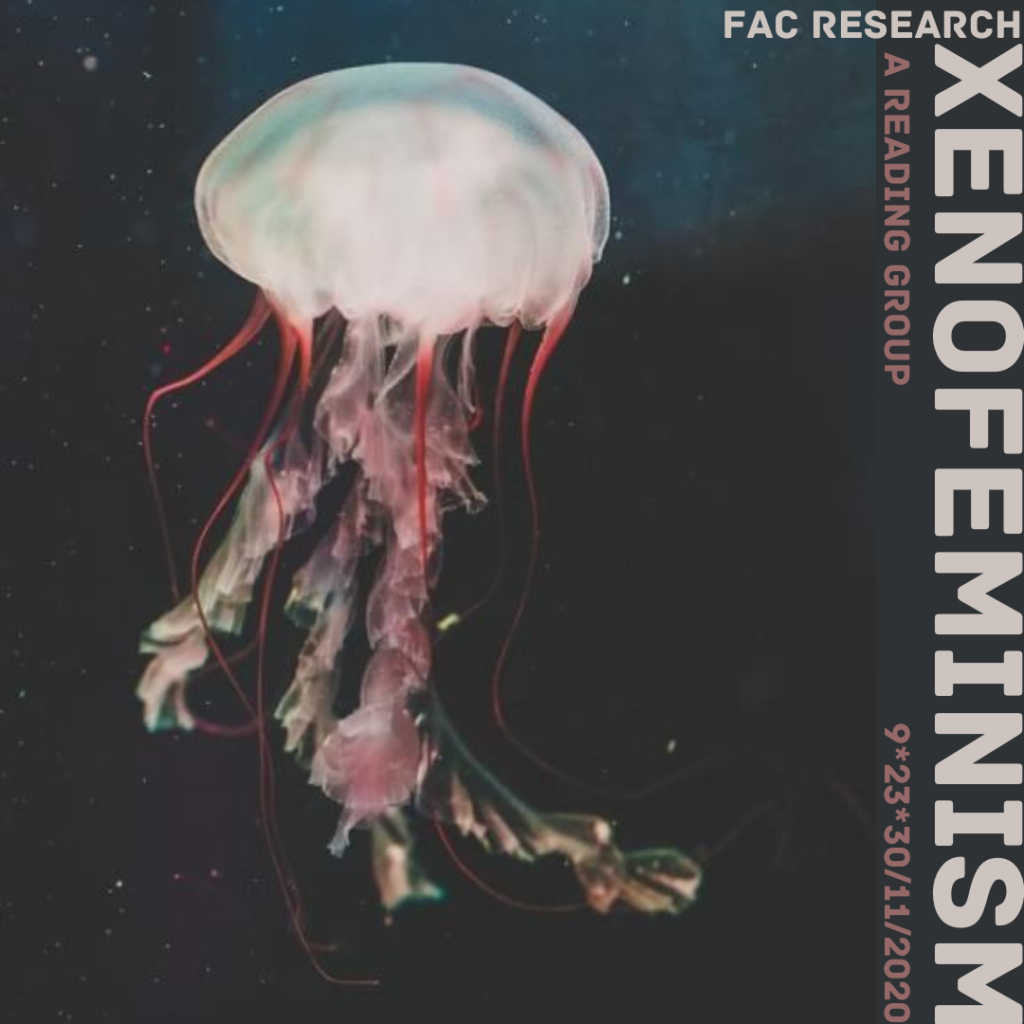 "Xenofeminism is an affirmative creature on the offensive, fiercely insisting on the possibility of large-scale social change for all of our alien kin."

— The Xenofeminist Manifesto: A Politics for Alienation by Laboria Cuboniks (Verso, 2018)
Welcome to the Xenofeminism reading group. We have planned three meetings to discuss the manifesto by Laboria Cuboniks, which proposes a queer intersectional feminist theory, a subversive discourse concerning contemporary sociopolitical conditions and practices. Xenofeminism is a radical anti-essentialist political tool for the present. Through our reading, discussion, and critique of the manifesto we will uncover how, through technology, Xenofeminism opens up possibilities for anti-patriarchy; we will confront its political project of abolishing gender and the family as part of the struggle for the abolition of the system of racial capitalism.
To express interest in participating, please fill in this form.
Deadline to express interest: 5 November
Response: 6 November
Programme
1st meeting (9 November): Zero, Interrupt, Trap, pages 10-49.
2nd meeting (23 November): Parity, Adjust, Carry, Overflow, pages 50-93.
3rd meeting (30 November): Interview of Laboria Cuboniks by Agrafa Society, New Vectors from Xenofeminism. Critiques of Xenofeminism.
* Laboria Cuboniks (b. 2014) is a xenofeminist collective spread across five countries. She seeks to dismantle gender, destroy the family, and do away with nature as a guarantor of inegalitarian political positions.
Read the Xenofeminist Manifesto online (in multiple languages), the paperback edition from Verso Books, or in Greek translation from Topovoros Editions. (The page numbers above refer to the Verso edition.)
The reading group is facilitated by Bessy Polykarpou, Penny Travlou, and Anna Carastathis
Photograph by Patrick Brinksma.